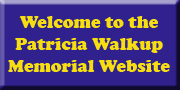 Patricia Walkup, a tireless community activist and founder of the Hayes Valley Neighborhood Association passed away in San Francisco on June 6, 2006. Patricia and many other San Franciscans worked over a decade to bring down the Central Freeway that was damaged in the Loma Prieta earthquake of 1989. Finally, in 2005, the beautiful tree-lined Octavia Boulevard and public green at the upper end, replaced the double-decker freeway that had divided the neighborhood. On September 10, 2006, "Patricia's Green in Hayes Valley" was formally dedicated at a memorial celebration for Patricia. It stands as a testament that ordinary people can accomplish extraordinary things.
---
Click on the links below to watch the videos on YouTube.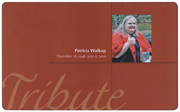 Click below to see Memorial Celebration Booklet.
Click Here to Download Memorial Booklet (pdf).
---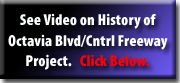 Courtesy of Caltrans.
---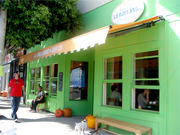 La Boulange de Hayes opened in mid-October, 2007
Starbucks Closing
La Boulange
La Boulange de Hayes, along with 22 other locations owned by Starbucks is closing. La Boulange on Hayes Street opened in mid-October, 2007.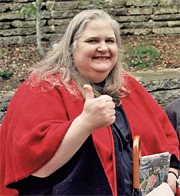 Photo of Patricia Courtesy of Barbara Wenger
---



---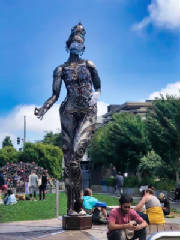 Sculpture on Patricia's Green
Summer, 2020.
---
2nd Version of Temple
by David Best Installed on
Patricia's Green in 2015
The second Temple by artist, David Best, was installed on Patricia's Green on June 26, 2015. The first Temple by Mr. Best opened on June 3, 2005, when the Green was first completed. This second structure remained on Patricia's Green through the summer of 2016.
---
SFJAZZ
CENTER
officially opened Monday, January 21, 2013, at the corner of Franklin and Fell Streets (201 Franklin) — just 2 blocks east of Patricia's Green in Hayes Valley. A 35,000 square foot transparent structure with a state of the art 700 seat concert auditorium, it is the nation's first free-standing building created for jazz. Designed by award-winning San Francisco architect, Mark Cavagnero, the LEED Gold Certified (Leadership in Energy and Environmental Design) building includes rehearsal spaces, a café, and a glass enclosed ground floor to engage and welcome passers-by. It is with great pleasure that we welcome
SFJAZZ
to the Hayes Valley neighborhood!
CLICK HERE FOR PHOTOS AND THE LATEST NEWS ABOUT THE NEW SFJAZZ CENTER.
---
New street art at Octavia and Hayes
Street Art Across From Patricia's Green
Street art by London-based artist, Ben Eine, was completed the second week of March, 2011, across from Patricia's Green at Octavia and Hayes. "Brighter Faster" is one of several works Ben Eine has recently completed in San Francisco.

CLICK HERE

for more pictures and info. And

CLICK HERE

to read an interview with the artist.
---
Mark Baugh-Sasaki's envioronmental sculpture, "Adaptations", has found a new home at the University of San Francisco Hilltop Campus. Originally installed on Patricia's Green in 2009, It lived in two other Hayes Valley locations before moving to the USF Hilltop Campus in January, 2013, at the request of the University. The sculpture, made of steel and wood, weighs about 1,000 pounds and was installed with cranes and 15-25 of Mark's friends.
CLICK HERE TO SEE A VIDEO OF THE INSTALLATION.
To find out more about Mark Baugh-Sasaki and his sculpture:
www.markbaugh-sasaki.com
---
Click here to download a summary of the Memorial Celebration from the Hayes Valley Voice (pdf).



---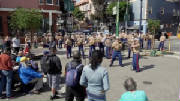 Click here to see short video of Patricia's Green: January, 2013
---
---
HVNA Receives 2012 AIA Award
The Hayes Valley Neighborhood Association was honored with a Special Achievement Award by the American Institute of Architects, San Francisco Chapter, on April 30, 2012. The award was announced at a special gala held at the Julia Morgan Ballroom in San Francisco. The award reads: "Acting out of positivity and community involvement, the Hayes Valley Neighborhood Association has moved past the status quo to push for innovation in neighborhood organization. Pushing for social, economic, as well as architectural diversity and character, the HVNA has transformed Hayes Valley".
Click to download AIA graphic about HVNA. (PDF, 1.7MB)
---
After several years of hard work by SF architect
David Winslow
, a portion of the Linden Living Alley was dedicated on the afternoon of Thursday, October 21, 2010. The conversion of the east end of Linden Alley (Linden @ Gough) into a pedestrian-friendly, "green" street will provide an intimate social setting for people to linger and relax. We look forward someday to the conversion of the entire two blocks of Linden Street between Patricia's Green and Franklin Street. This would be a wonderful gateway leading from the planned SFJAZZ Center (Linden@Franklin) to Patricia's Green (Linden@Octavia) — and the center of the Hayes Valley Neighborhood.
Click here to see video of Linden Alley event.
---
Click to see video of Green: Fall, 2009
Click for audio "Clip of the Day".
Spirit in the Dark (Aretha Franklin)

---
Patricia Inducted Into

2009 NEN Hall of Fame

On Wednesday, November 18, 2009, Patricia was posthumously inducted into the
NEN Hall of Fame
. The Neighborhood Empowerment Network (NEN) is a collaboration of City agencies, non-profits, faith-based organizations and academic institutions and local community stakeholders. Its goal is to empower neighborhoods to take leadership roles in stewarding their community to becoming cleaner, greener, healthier, more inclusive places to live and work. The event at the North Light Court of City Hall was attended by over 400 people including Mayor Newsom and Supervisor Ross Mirkarimi (Dist. 5). Many of Patricia's friends from Hayes Valley also attended. To see a video clip,
CLICK HERE
. Visit the NEN website:
http://empowersf.org/
---
Steinway Piano Donated to Cadillac Hotel in Memory of Patricia

On June 21, 2007, the Cadillac Hotel in the Tenderloin received a rare musical instrument. A fully-restored 1884 Steinway Model D Concert Grand Piano arrived in the lobby. The piano spent most of its life in a castle in Holyoke, Massachusetts. In April, it was purchased by Lee Walkup, brother of Patricia, and shipped from New Haven to San Francisco. Click on the photo above for more info.
Or, click on this underlined text to see the NBC11 news video segment from June 22, 2007.
---
CLICK HERE TO DOWNLOAD 4-PG BROCHURE ON HISTORY OF PIANO.
---
Donations Accepted
For Permanent Memorial
If you would like to help with the costs of a permanent memorial for Patricia, please click on the banner above. Donations are now being accepted through the Hayes Valley Neighborhood Association. Please go to the Memorial Fund page for more information.
---

SF Recreation and Park Commission Officially Names Park
The Recreation and Parks Commission voted unanimously on August 17, 2006, to name the park at Octavia Blvd. between Hayes and Fell Streets: Patricia's Green in Hayes Valley. Thank you to all who worked to support the naming of the green by writing letters, getting signatures, and attending the meetings of the Commission. Patricia worked with others for over a decade on the Central Freeway/Octavia Blvd. Project. The naming of the green is a tribute to all who worked to create this beautiful gateway to the City.
---
Click here to download Rec & Park Minutes from 8/17/06.
---

---